George Georgiou: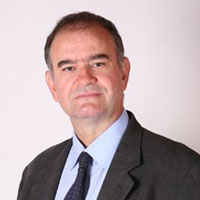 Dr George Georgiou is Director General of Financial audits within the Ministry of Finance, Greece and (ex officio) Chairman of the Audit Coordination Committee.
Topic: Critical factors in auditing public entities in a period of scarcity of funds.
---
He holds a Ph D in the field of economic planning from Strathclyde University, U.K. He is a Certified Government Audit Professional, Certified Internal Control Auditor and Accredited Audit Quality Reviewer, He has served in the General Accounting Office of the Ministry of Finance, in departments responsible for budgeting, monitoring and supervising spending.
In 2003 he was appointed Chairman of the European Council's Budget Committee during the Hellenic Presidency in the European Union. He has served as National Expert in the General Directorate of Budget within the European Commission on budgetary and financial control issues. From 2011-2018 he held the position of Internal Auditor in the European Defense Agency in Brussels, responsible for all audits.
For his services to the General Accounting Office he has been honored with a special award. He is the author of a book on European Finance and Budgeting while he has published several articles in International and European Journals.