Jolanta Hadera: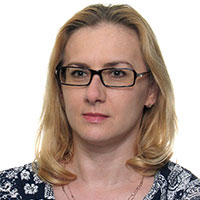 PhD in economics I have an over a decade professional experience in the finance sector (banking supervision, control, audit and risk management). As an auditor she has developed procedures and audit methodologies, internal regulations pertaining to internal audit and control, she also has conducted and managed audits.
Topic: Automation of control mechanisms and verifying its effectiveness as a risk management element.
---
She has designed and implemented an automated order issuing and monitoring system. As Risk Department Manager in a bank, she dealt with a whole spectrum of areas related to risk management including credit risk, concentration risk, interest rate risk, liquidity risk, currency risk, operational risk, outsourcing risk as well as internal capital valuation, money laundering and terrorism financing counteracting process. She delivered a number of training courses in internal audit and audit of specific risks. Currently she cooperates with Mikronika -together with PIKW she is responsible for the development of the Smart Audit System.