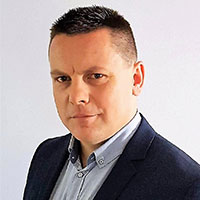 Paweł Harasiuk – Lawyer, currently working for the Norwegian Police as an investigator and Forensic Document Examiner; member of II level expert group at Nasjonalt ID Senter in Oslo (Norwegian Identification Centre), licensed trainer for certified 1st level trainings on investigating document forgery.
Temat: ID documents forgery and technical/forensic verification of authenticity.
---
During my 30-minutes lecture I will briefly describe the scale of ID documents forgery, discuss types of security measures used in passports, ID cards and driving licences (both European as well as African and Middle East countries). In the second part of my presentation I will talk about investigation documents forgery and analyse security elements which are most frequently subject to fraudulent modification as well as methods of their production. If time permits, I would like to discuss the most important aspects of visual verification of document holder against the ID photo. Knowing individual features of human face will allow for more effective and more precise verification under strong time pressure and distracting environment.